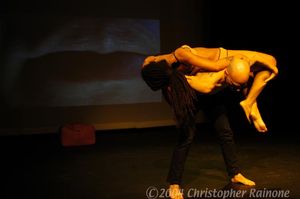 "Licity's art is unlike any other out there.
She is daring. She is alive. She is not afraid of pulling you in or pushing you away." —MW Gallery Director
Tow
A personal history. Live performance. Video close up of eating multicolored dum-dums, voice over from Michel Foucault's Discipline and Punish, orange suitcase. Repeated picking up and dropping of me, followed by reciting a Janis Joplin monologue about love. Inspired by Antonin Artaud. Performed with Micah Perry, Enteractive Language Festival Portland, OR
click photo for slideshow
Skinned
A collaborative self-portrait. Kitchen cabinet doors and craft blocks painted with house paint. I asked several paint experts at local hardware stores each to create a custom paint to match various parts of my body—left arm, right thigh, face, belly, back, palm and breast. Radio Story produced by Dmae Roberts Aired on Studio 360 (WNYC/Public Radio International) Center on Contemporary Art, Seattle, WA.