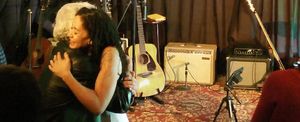 Community is so important to me. My email community is full of incredible people who all seem to become my friends. Through my newsletters, I keep my community connected and inspired with unique observations on life, a deep connection to the passion of being an artist, and of course updates on events and happenings. It's not your typical newsletter. It's full of life-and-love-in-real-time.
When you join, you receive a gift sampler of my songs, stories, and NPR interview.
I would love for you to become a part of this experience by joining the community today.